Season Review so far: Praga Cup
Since the Praga Cup was launched at Silverstone in March of this year, Praga has seen record numbers of Praga R1s line-up on the grid, beaten GT3 lap times, and awarded trophies to 20 out of 29 drivers.
Prior to 2022, the largest number of Praga R1s to appear on track was nine, in the Praga Class of the 2021 Britcar Endurance Championship. Round One of the inaugural Praga Cup increased the grid to 13 R1s, with an influx of new teams including Arden Motorsport, Mittell Cars, RAW Motorsports and University of Wolverhampton Racing.
The results to far
As the championship proves itself to be exciting, fast, and incredibly competitive, podium places are hard fought between drivers at every Round. Praga Guest Drivers and sim racing stars, Jimmy Broadbent and Gordie Mutch, are leading the championship after Round 4 with four podiums.
After finishing third in Race 1 Round 1, they went on to secure second place in Round 2, before bringing home first place finishes at both Rounds 3 and Round 4. Gordie Mutch is rapidly building a reputation as one of the fastest drivers in the championship, with two fastest lap times and a near new outright lap record on the Silverstone National circuit.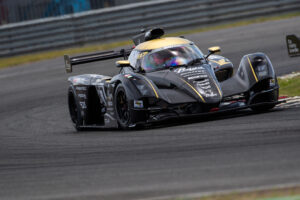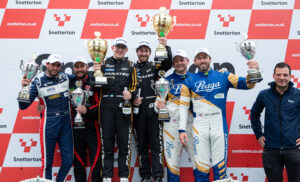 Strong performances have also come from RAW Motorsports' Ben Stone and Rob Wheldon , who have secured one race win, three second place finishes, and one third place finish. They are closely followed in the championship standings by Scott Mittell and Charles Hall from Mittell Cars, who have maintained their place in the top rows of the standings Round after Round, with two race wins and one third place finish so far.
"You get to share the car, that's a new experience for myself, and probably one of the things that I've enjoyed the most. It's nice to get out of the car and share that feeling that you get with someone else".  Scott Mittell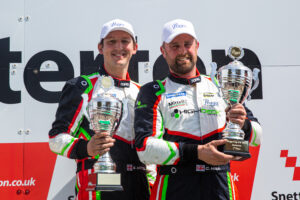 The student-led University of Wolverhampton Racing team has shown exceptional dedication and determination in the championship. As a team which is actively learning in the pits, the students have progressed race to race, resulting in their first podium at Race 1 Round 4, with Shane Kelly and Stefano Leaney bringing the UWR R1 home in first.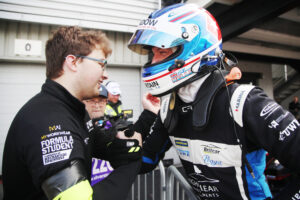 Racing statistics
With hot competition on track, the Praga R1 continues to deliver impressive lap times at the UK's most popular circuits. Alex Kapadia, a professional racing driver with experience in LMP2, LMP3, LMPC, Radical Sportscars as well as GTE, GT3 and GT4, set Praga's fastest lap on the Silverstone GP track of 1:55:407 during Qualifying, beating the fastest 2022 British GT3 Championship lap times in the process.
A few weeks later, Tommy Foster, FIA Ranked Gold Driver and 2021 Barcelona Le Mans Cup Winner, set Praga's fastest lap record for the Oulton Park International track at 1:31.278. In the past two Rounds, Gordie Mutch, three-time British karting champion and former Ginetta GT5 Challenge driver, set two of Praga's fastest lap records; 01:45:516 in Qualifying for Snetterton, and 00:52:884 during Race 1 at Silverstone National.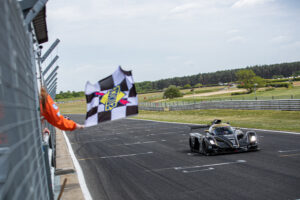 "I love it, it's very quick, I think we were doing about 160mph by the end of the straight, which is faster than I've been down the straight in any other car, because a Radical tops out at about 135mph. It's comfier than a Radical as well." Matt Bell, RAW Motorsports
Praga Cup Rounds 5 and 6
The final two Rounds of the Praga Cup will take place at Donington Park on 20th – 21st August and 22nd – 23rdOctober. Last year, Gordie Mutch and Jimmy Broadbent took two race wins in the final Round of the 2021 Praga class in the Britcar Endurance Championship at the Donington track, a performance which could be repeated by the current Praga Cup championship leaders this year.
It's all to race for as an incredible prize pot worth over £250,000 will be awarded at the end of the Cup; a used Praga R1 will go to the owner of the winning R1, the driver finishing in first overall will receive a paid Arrive and Drive place in a 24 hour race, the driver finishing in second place overall will receive paid entry fee to drive in Praga Cup 2023, and the driver finishing in third place overall will be awarded two Praga Karts.
Races can be watched live on the BARC YouTube channel, with tickets available from the MSV website.
Fans can also enjoy Praga's behind the scenes YouTube series which follows the story of the Praga Cup 2022 Round by Round.