Race Report: Kelly lands first win for Wolverhampton Uni Team in Race 2
Words: Kieran Mogg, Photos: Chris Valentine
In the second 25-minute sprint race of Round One of the Britcar Prototype Cup, Shane Kelly led the field to bring the University of Wolverhampton Racing its first win of the 2023 season. Kelly won the Praga class as well as taking the overall win with an eventual margin of 14.9 seconds over second-place Scott Mittell in wet conditions, with Ben Stone finishing in third place.
On Sunday 26 th March, which saw the second driver of each pairing pilot the Pragas, Ruben Stanislaus started the race from pole position in the number 18 Idola Motorsport car following on from Rodolfo González's inaugural win in race 1. Going into turn one, Stanislaus defended his lead from Scott Mittell on the inside line. Mittell went to the outside, and with superior grip off the slick racing line, promoted the number 77 Mittell Cars Praga into the lead.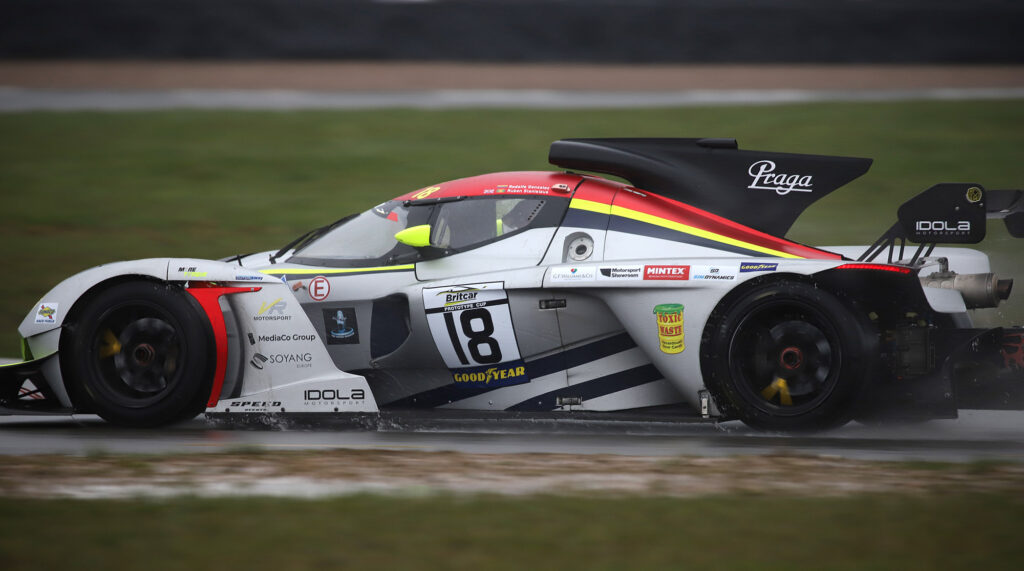 Shane Kelly took advantage of Stanislaus's compromised run out of Copse and moved into second-place going into Maggots. Behind, Ben Stone in the TGM with Private Leads car moved into the podium position overtaking Ruben Stanislaus.
Shane Kelly caught Scott Mittell and proceeded to have a back-and-forth battle in sector three with Kelly eventually prevailing. On the second lap, Ben Stone caught Scott Mittell as they began their race-long battle for second place.
After the first two laps, Shane Kelly had a steady lead of 7 seconds ahead of Scott Mittell and Ben Stone. Will Stowell in the number 14 Idola Motorsport car began applying pressure to Ruben Stanislaus for fourth position. With the number 18 Idola Motorsport car keeping a half-second gap on average, Stowell was unable to pass the sister Idola Motorsport car.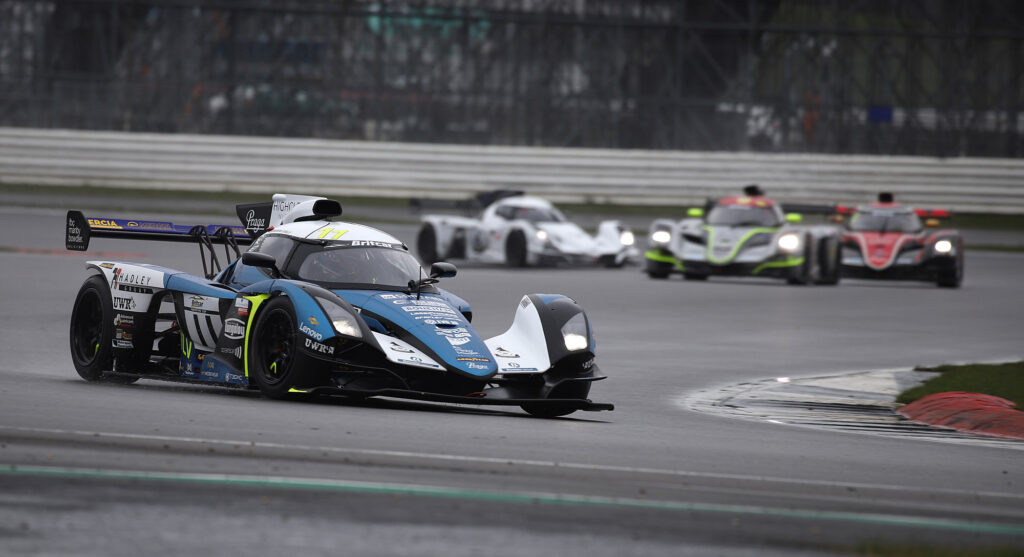 Up front, Shane Kelly began extending his lead on lap 6. "The team said over the radio that Scott was trying to match my lap time, so we upped the pace further in the second sector and pulled the gap a bit bigger," Kelly stated after the race.
Ben Stone continued to push and spun the number 4 TGM with Private Leads car into Aintree and dropped to fifth place. "He [Scott Mittell] seemed to pick up his pace, like he was getting quicker every lap, but we were doing different lines. It was quite close and then I just made that mistake, which was frustrating", Stone said after the race.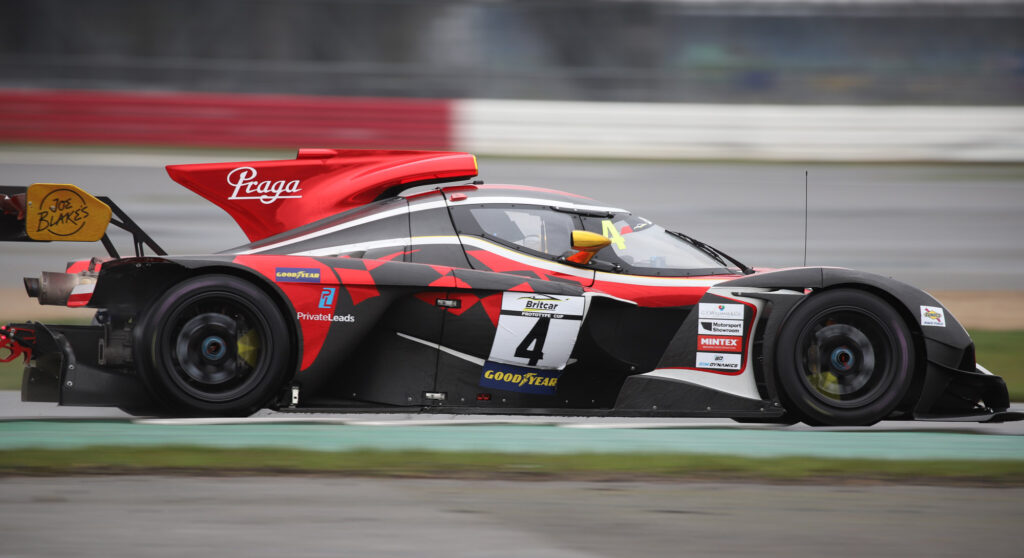 Stone began chasing after Will Stowell and made the pass on lap 7. Lapping 5 seconds a lap quicker than Mittell on lap 8, Stone attempted to make a move on Ruben Stanislaus into Copse but backed out, waiting instead until the heavy braking zone of Vale with a smooth pass around the outside of Stanislaus. Two consecutive laps in the low 2:19's for Stone allowed the TGM with Private Leads car to come within less than four tenths of a second behind Scott Mittell at the end of the race.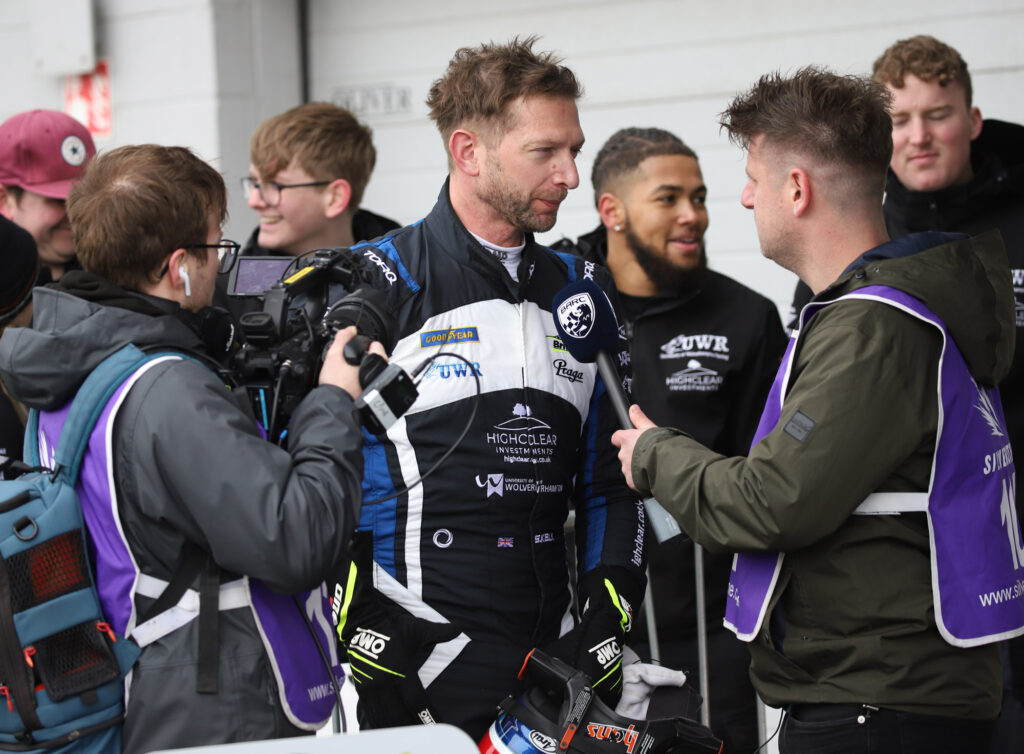 Shane Kelly leads Scott Mittell and Ben Stone to round out the podium. Stone finished just 0.434 seconds behind Mittell after setting the fastest lap of the race with a 2:19.146. Ruben Stanislaus came home in fourth, and Will Stowell in fifth.
The third and final race of Round One will be a 50-minute pit stop endurance race, shared by both drivers of each driver pairing.